Cloud Mining in the recent years has made a really bad name for it. There have been many scams or hacks, ultimately resulting in weakened trust on the cloud mining companies. But among these foggy space of the cloud mining industry, there are some platforms or companies that are trying their best to stand out and provide the users with a trust-able and worthy platform. One of them is – NiceHash. The below NiceHash review will spill some light upon the pros and cons of using the platform and what type of user is it really beneficial for?
NiceHash claims itself to be the largest crypto-mining marketplace, which we won't contradict, looking at the large user base that it has. Today, in this post, we will make an in depth analysis of nicehash advantages and disadvantages to conclude if it is truly worth a try or not?

So let's begin!
NiceHash Review : An Introduction
Basically, NiceHash is an online marketplace where you can buy or sell computing power also known as hashing power on demand. The idea is very similar to crypto-exchanges but instead of crypto-coins, the commodity that you bid on is hashpower. In other words, if you have a mining rig then you can rent your hashing power on NiceHash and if you need some hashing power then you can buy it from NiceHash. So this is the platform where buyers and sellers of hashpower can complete their demands.
For each and every buy or sell transaction, NiceHash does charge a minimal transaction fee which is acceptable. The best thing is that there are no long term contracts and with crypto's future hanging in uncertainty, you are better off with using some cloud solution, instead of buying expensive hardware only to have it sell cheaply on ebay.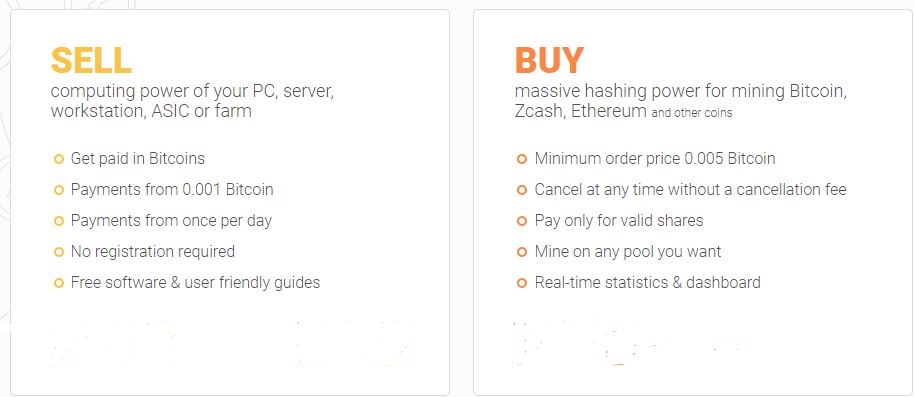 NiceHash Vs. Cloud Mining
Let me make it clear to you outright that NiceHash is a tad bit different from Traditional Cloud Mining. Yes, technically what it offers is cloud mining but the way it functions is different. It's a Cloud Solution for mining but not exactly a Cloud Mining Platform.
Cloud Mining like Genesis is when you practically buy a virtual rig for a time period usually 2-3 years whereas in case of Nicehash you are not renting a virtual machine rather only the hashpower. In-fact, the hashpower that you are renting is from miners who are selling it on NiceHash. So basically one rents you the machine but the other supplies you only the hashpower that too from other sources.
In simple words, Nicehash does not own any mining hardware itself, instead it is redirecting the demand and supply of hash power between it's buyers and sellers. On the contrary, Genesis owns large mining farms and rents the computing power of those to it's users.
NiceHash Advantages and Disadvantages
There are two sides to every coin and NiceHash is no exception. So, here we bring you a tabular representation of the Pros and Cons of NiceHash. For more elaborate explanation scroll down to the latter part of this article where we have discussed in detail each and every point mentioned in this summary table.
| Advantages(Pros) | Disadvantages(Cons) |
| --- | --- |
| Stable Platform | Middleman Third Party |
| Good Future | |
| For Sellers | For Sellers |
| Easy for Beginners | Wallet Transaction Fees |
| Multi algorithm | |
| Less Risky | Cannot get Lucky |
| BTC Payouts | BTC only Payouts |
| Decent Profitability | Not Profitable Enough |
| For Buyers | For Buyers |
| No Long-Term Contracts | Unsuitable for Long-Term Investments |
| Fair Market Value | |
| Great Hashing Power | |
Advantages of NiceHash[Pros]
There's no denying the fact that NiceHash is one of the best crypto mining marketplace and hence let's start with the positives that support this fact!
1. Stable Platform
NiceHash is a pretty prominent and trusted crypto mining marketplace. It releases regular updates very frequently that include bug fixes, performance fixes, new cryptocurrency info etc. It has a very active support and community which caters to your needs and problems very effectively.
2. Good Future
NiceHash is an established crypto firm and definitely here to stay. A proof of this can be seen that even after such a big hack recently, the company acknowledged it, came back and even promised to fulfill the losses of the users. In fact, NiceHash came back stronger than ever by lowering their transaction fees.
So if you fear that the company like other cloud mining scams would run away with your mining profits then you are just being paranoid. Don't worry! Nicehash is a pretty regulated company.
NiceHash Advantages for Sellers
1. Easy for Beginners
Due to it's relatively easy setup, less risk involved and easy one click operation, NiceHash is very very beginner friendly. No research, no techie knowledge will be required. It's a set-and-forget style of mining and hence very convenient. Log on and you are good to go. A quick and one-click solution!
2. Multi algorithm
NiceHash decides the most profitable algorithm to mine for you after speculating your hardware. Hence, you will always be mining the best bang for buck profitable coin. This eliminates risk as well as research wherein you won't have to go searching for the next best suitable coin.
Nicehash automatically switches to the most profitable coin and hence takes away the uncertainty. This eliminates the risk of not mining the most profitable coin.
3. Less Risky
NiceHash takes care of all the hassles in mining and automatically switches to most profitable coin. This in turn takes the uncertainty away and reduces risk for individual users. In-fact, it is one of the safest way to enter the market. Additionally, If your miner breaks NiceHash support would be there to help you which is not the case with Pool Mining.
4. BTC Payouts
As of this date the payouts come in Bitcoins but talks are in for payment in altcoins too. If this happen then the profitability will see some boost depending on the market fluctuations. The BTC only payments also have one positive impact which is whatever you mine, you won't face the hassle of converting it into BTC via exchanges.
5. NiceHash Wallet
NiceHash has an internal wallet which is used to store the Bitcoins earned by renting your computing power. The internal wallet feature is profitable for long term miners. There is a transaction when you export the Bitcoin from internal wallet to any other external wallets.
6. Decent Profitability
With NiceHash you basically earn the largest possible reward for the least amount of effort. The profits would still be less than pool mining due to transaction fees and the fact that you get paid in BTC. Nonetheless, it is still decently profitable but the ROI period can be significantly longer than normal which seems fair. It has higher payouts than most of it's competitors.
NiceHash Advantages for Buyers
1. No Long Term Contracts
Unlike some shady and baffling cloud mining sites, NiceHash has no long term contracts and you can start and stop when ever you want. The unique pay-as-you-go purchase model allows buyers to be completely flexible and bid on the hashing power in real-time without long-term contracts. You can cancel at any time and get your remaining funds back with no cancellation fee.
2. Fair Market Value
With nicehash it is possible to test lots of different markets and hence we will generally be always paying a fair market rate. You can analyze the bidding yourself and according to your needs take the necessary steps. You will get real time statics of your workers and their performance and the large number of choices ensure your money doesn't go waste.
3 . Opportunistic Mining
If you are a miner and you need a big amount of hashpower in a short period of time then Nicehash is the perfect place for you. On nicehash, the highest bidder gets all the hashpower on the site. With such a good user base NiceHash usually delivers the promised hash power. In some cases when we know of the most profitable coin and we want to feast on it ASAP then in that case NiceHash is the best alternative to get a great amount of hashing power.
Disadvantages of NiceHash[Cons]
Not all things about NiceHash are great for everyone. It still has some minor hiccups and the decision to use it as a daily driver depends on user to user. Some may deem it profitable while for some it may not be profitable enough. So, let's have a look at some points that have held back NiceHash from becoming the Best for everybody.
1. Middleman Doubts
Nicehash is a third party and this may concern some people because they can actually pretty much decide how much you earn depending on their profitability. Don`'t worry, NiceHash has never done such things and tries it's best to maintain transparency with real time statistics. The biggest example of this trust issue was the hack that happened in November 2017. Though NiceHash bounced back but if it hadn't the users would have to bear losses.
NiceHash Disadvantages for Sellers
1. Not Profitable Enough
If we compare NiceHash with Pool Mining especially in cases of dedicated coin mining where a user is mining only a particular coin then in that case the profitability in Pool Mining is more. Mining a coin through nice hash is usually less profitable. Also, You still have to pay the pool fees. But Pool mining maximizes whatever you're mining in pure profit for that currency.
In other word, NiceHash is easy one click thing but less profitable and not as efficient as manual mining.The additional benefit of pool mining a specific coin is you can optimize your system for that particular algorithm.
2. BTC only Payouts
With the high Bitcoin transaction fees it's not the first choice for smaller miners, but with the potential inclusion of altcoin payouts, it might be an option for some. After the Hack of around 4700 BTC, NiceHash has taken some steps like lowering the fee for a transfer to an external wallet and consideration of altcoin Payouts. But still all small miners are bound to be paid much less frequently and charged more in fees.
3. Cannot get Lucky
With manual mining you can mine different coins and get their payouts in the respective crypto coin. Usually shittier the coin more risky is it but risky shittier coins fluctuate like hell. And if you are lucky your shitty coin may be the one to go the highway. So it's risky but has an equal luck factor as everybody knows shitty coins can make some crazy steep graphs. This cannot happen with NiceHash as the only payout as of today is in the form of Bitcoin which is neither risky enough nor lucky enough.
NiceHash Disadvantages for Buyers
1. Unsuitable for Long-Term Investments
If you are a NiceHash contract buyer and want to make long-term investments then NiceHash is not a good option for you. NiceHash is best for short term purchases of massive hash power and not really suitable for long term investments especially for small miners. Cloud Mining on the other hand is a long term thing. NiceHash is a real time thing and it's prices will fluctuate with the market whereas in cloud mining you make a long term deal. So, if in the future the crypto market booms you will have an advantage of having bought the hashpower at a lower rate.
Conclusion : Should you use NiceHash?
For Sellers
NiceHash perfectly serves the need of being a quick, one-click solution and hence is perfect for beginners. If you don't wanna go through the hassles or research or you don't want to do a risky business then Nicehash is perfect for you. It will mine the best algos for you and alternatively it will show you the most fair market prices in case of buyers. It's fairly automatic and you have to put in very minimal amount of efforts. Still you will reap decent benefits. So for beginners, small miners or miners who cannot dedicate their time for mining research, NiceHash is the best way to go.
If you don't have time to dedicate on your mining or you are a small miner then Nicehash is perfect for you. It is easy and risk free. Before you start with NiceHash Buying or selling do make your calculations so that you incur no losses.
For Buyers
As of today, when the market is devoid of GPU and ASIC's, cloud mining is a strong tool and NiceHash excels in it. If buying expensive hardware for mining is not your thing then cloud mining solutions like NiceHash are a good alternative.
Also if you require short bursts of massive hashing power then Nicehash can provide that. Say as a miner you know a profitable coin and you want to maximize the output then you can get good hashing power to mine it from Nicehash.
Note : None of the information provided in this article is professional investment advice.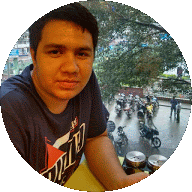 I write about Crypto mining, trading, referral programs. I have been in the cryptocurrency industry for the last 4 years.