Binance Crypto Exchange has come up with a referral program with some exciting referral rewards. Suppose you refer a person then you can earn a maximum of 40% referral commission from the fees your referral pays to Binance. Also, the person who signs up through a Binance referral code will be eligible for a fee discount also known as Binance Kickback ranging from 5% to 20%. You as a new user on Binance can further lessen your fees by 25% which I will discuss later in the post.
Thus it's a win-win situation for both of us, you will be trading on lower fees (40% less to be exact) and I will earn some referral bonus. If you are an Old User on Binance and have already joined Binance then I would recommend you to sign up again using my Binance referral ID so that you do not miss out on the 20% kickback I am offering.
| | |
| --- | --- |
| Referral Code | 10186109 |
| Kickback Referral Code (20% Cashback) | G4DEK5OI |
| Referral Rate | 20%-40% |
| Sign up discount | 20% |
| BNB Discount | 25% |
| Last Verified | 10-July-2021 |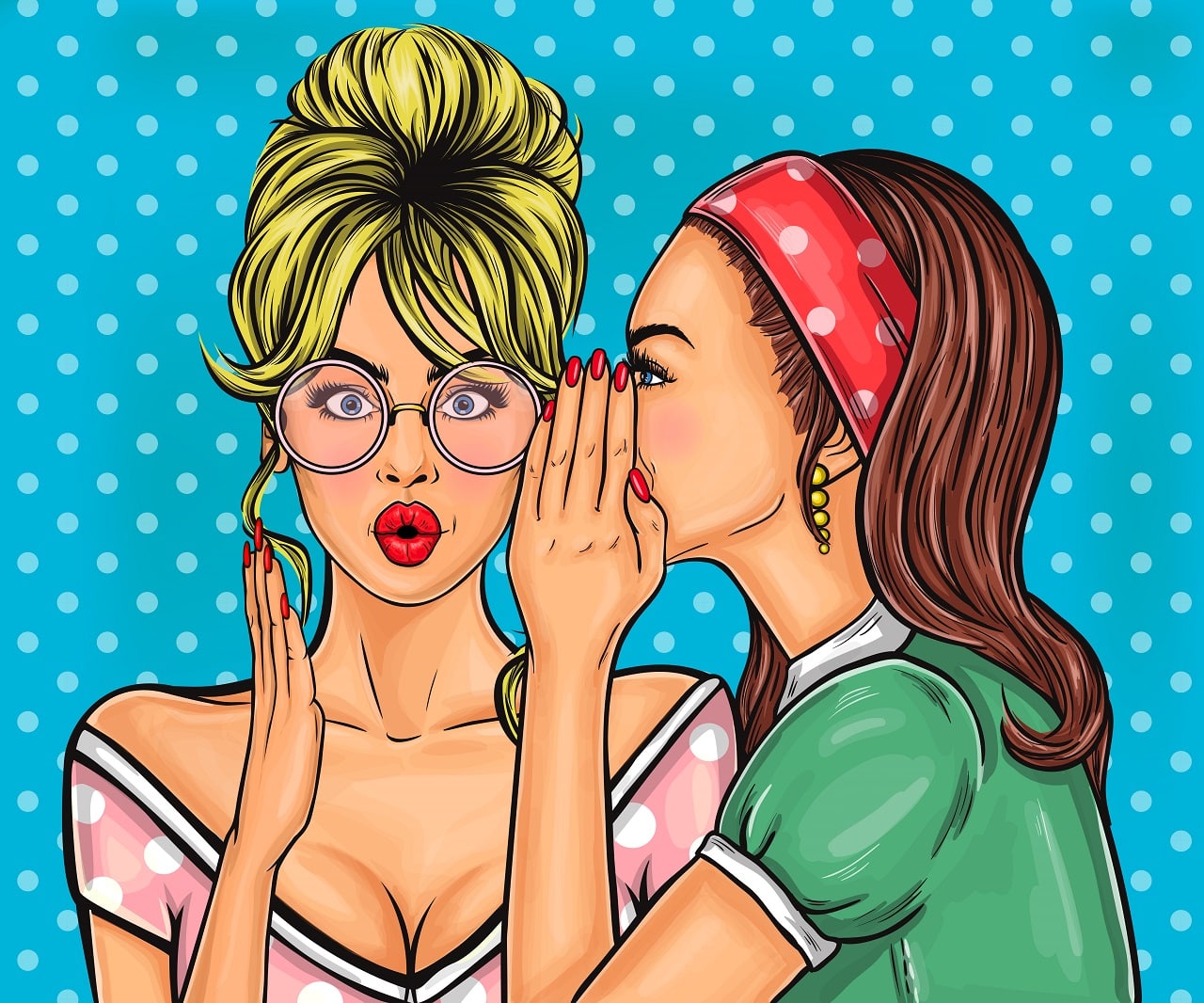 You need to buy some BNB first to pay your trading fees via BNB. This BNB discount reduces every year, earlier they used to give a 50% BNB fee discount but now it has been reduced to 25%. Thus by using my Binance referral code you will receive a Binance Kickback Discount of 20% and add another 25% BNB fees discount to receive a total of 40% discount on your trading fees ( yes, 40% and not 45% as 20% kickback * 25% BNB discount = 40% in total).
Binance Referral Code

:
10186109
If you are a US citizen then please use our Binance US referral ID to avail the above mentioned benefits.
Binance US Referral ID:
35057610
Latest Update: Earlier Binance had reduced its referral commission to 20% but now if you hold 500 or more BNB then you will get a 40% referral commission. This is great news and I think BNB price will surge definitely.
Why to use our referral code?
To be honest, if you use my Binance referral ID you will help me earn a referral bonus which in turn would help this site to grow and I will be able to help you with more such exciting offers. But earning this bonus is not the sole criteria for recommending this exchange. Binance is one of my favorite crypto exchanges because of its low trading fees compared to other exchanges.
I personally use this exchange very often for crypto trading and they charge some of the lowest fees in the crypto industry. A new Binance user has to pay only 0.06% trading fees (if they sign up using Binance referral code and pay their fees in BNB). So joining Binance makes perfect sense as we are all here to make profits and not waste our money on fees.
Binance Discount Codes & Offers
Binance does not provide any coupons for discounted trading fees but with the Kickback referral code you can save up to 20% on trading fees on top of 25% BNB holding discount. I have compiled all working Binance Coupons and deals with which you save extra money while trading on Binance.
| | |
| --- | --- |
| Welcome Bonus | Claim in reward center [exclusive] |
| 25% Off on Fees | Hold BNB |
| 20% Off on Fees | Use Kickback Referral Code |
| 100% Off on Fees | Trade-in BUSD pair [Limited time] |
| Extra Discount | Place maker order instead of taker order |
For extra discount, you need to place a maker order instead of a taker order and this Binance deal is only valid if you are Binance VIP-1 or above.
Pro Tip:
If you are trading low satoshi coins then it's better to sell them in USDT, ETH pairs instead of relevant BTC pairs.
For better price don't stick to one trading pair only, e.g. you want to sell COTI on Binance but you should not necessarily sell it in COTI/BTC pair only, always check other pair also, in this case, COTI/BNB, COTI/USDT
Don't use a normal referral code during signup, use the Kickback referral code for an extra 20% Off.
I update this blog post regularly, so all Binance working offers are added and expired deals are removed from time to time.
How to Join Binance Referral Program?
1. Visit this link

2. If you are a new user, then Sign up/Register otherwise login to your Binance account.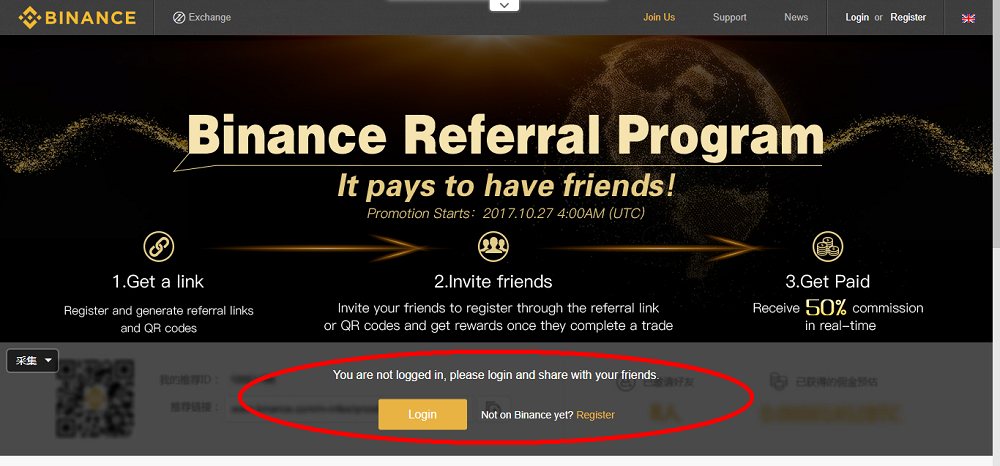 3. Go to your Accounts section and look for "My referral ID". You will get your Binance Referral Link there.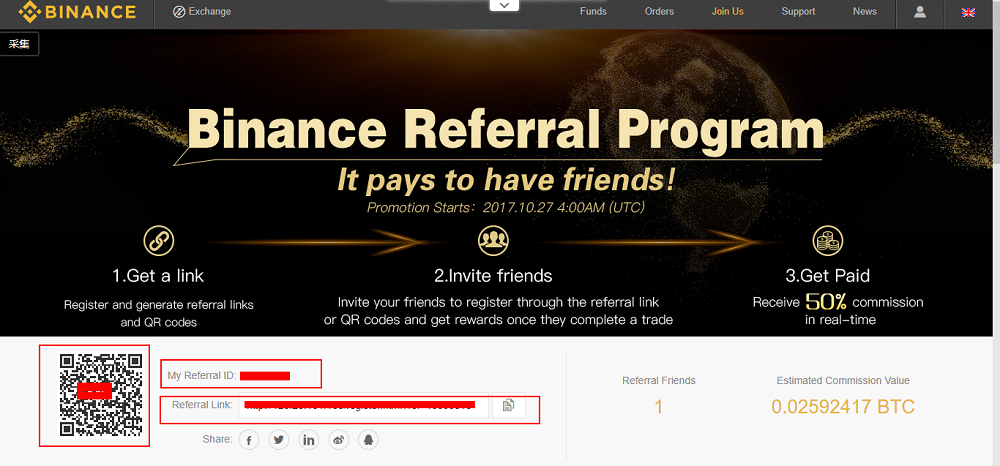 4. Share it with your friends and family members.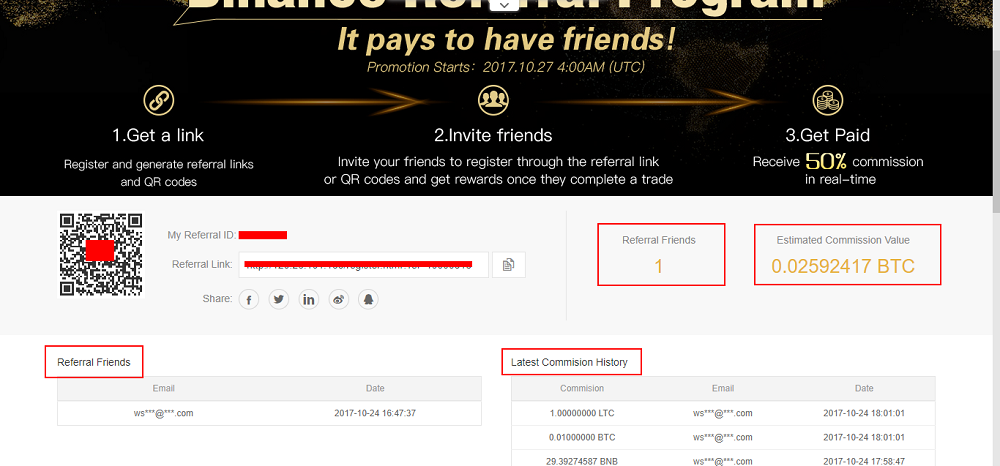 5. For each successful referral, you will earn a 40% referral commission from the trading fees which Binance earns from your referral.
Update – 21-June-2021
You can now buy crypto such as BTC, ETH, BNB, BUSD, USDT, XRP with your Visa/Mastercard on Binance. Currently, Binance is offering 50% on transaction fees if you use your Visa?MasterCard to buy crypto.
Binance Referral FAQ
What is Binance referral ID?
10186109
What is Binance Kickback referral code?
G4DEK5OI
How much referral commission does Binance offer?
20% to 40%
How to increase Binance referral commission?
If you hold more than 500 BNB in your account your referral commission increases from 20% to 40%.
How much discount does a new user get on Binance by signing up through a referral?
A new user can get a discount on his trading fee ranging from 0% to 20%. If you sign up through my referral ID I will offer you a 20% discount.
What is Binance Kickback Rate?
It is the referral commission that the referee wishes to share with his/her referral.
How to pay less trading fees on Binance?
Sign up through my Binance referral code and use BNB to pay your trading fee. This will help reduce your fee by 40%.
How much discount does Paying your fee in BNB provides?
25%
Any Exclusive Binance Discount Code?
No, not currently active.
How to apply Binance promo code?
You can apply Binance coupons and promo codes during sign-up only. Jkcrypto.com have the best Kickback cashback code which is 20%,
Binance referral commission info
If your referral trades for 10000 LTC then trading fees for that trade will be 10 LTC (0.1%), so you will get 4 LTC(40%) as referral commission.
By default trading fees are 0.1% but if you want a 40% discount on trading fees, Sign up through our referral code and then enable " Use BNB to pay fees".


Binance Referral Program : Terms and Conditions
At present referral commission is set at 40% but it can be changed in the future.
The referral bonus will be credited instantly in real-time.
There is no limit on the number of referrals you can refer to.
For valid referral, a referee must sign up using your referral id, referral link, QR code.
Binance team will check for duplicate referral and bonus will not be credited for fake/duplicate referrals.
The referral program can end at any time.
You can promote your Binance invitation link as an advertisement on search engines like Google, Bing, Baidu.
Don't spam your referral link on social media.
Why Join Binance?
Top Most Popular Crypto Exchange.
Highest Liquidity and volume.
Comparatively low trading fees.
Have the best crypto referral program where you can earn up to 50% affiliate commission.
The lifetime kickback discount explained below.
Regular listing and trading competitions.
Get 40% Discount on Binance Trades
You must signup using Binance kickback referral code "G4DEK5OI" to get 20% cashback on your trades.
Enable "using BNB to pay for fees" under the Account section. This option will get you an extra 25% discount.
The trading fee in Binance is 0.1%. Using BNB to pay your fee would reduce it to 0.075%. A further kickback of 20% would reduce it to 0.06%. Thus you save 40% of your trading fees.
Changes to Binance Referral Program
On 12-05-2020 Binance has made changes to its referral program. Earlier they have a different referral program for Binance and Binance Futures but now both are linked.
Now it does not matter whether you refer a user to Binance or to Binance Futures, you will receive a commission for both market trades (spot and futures)
The above changes apply only to new referrals (after 12-May-2020).
Old Binance referrals commission are not linked.
To earn a futures referral commission from Binance old users you need to refer them separately.
If you are referring a person using your Binance referral link and he trades on Binance futures you will receive the referral commission from him only if you have opened a Binance Futures account yourself.
Kickback commission will be decided as per your default referral link.
Other referrals and affiliate rules are unchanged.
Binance Kickback Discount Code
On 27-Aug-2019 Binance.com comes up with a new update to their Referral Program. With a new update, the referee can share part of the commission received from Binance with a referred user. They call it "Kickback".
If you will be using Binance for the very first time, then you can join using the following link which will get you an extra 20% discount on trading fees.
I hold more than 500 BNB in my Binance account so I will get a 40% referral commission from your trades. As I am in charge of the Kickback rate that I would like to share with the referrals I will share half of my referral commission (i.e. 20% kickback rate)as a token of appreciation with you for signing up on Binance using my Referral Code. Remember that this the maximum Kickback i am allowed to share with my referrals. The profits, therefore, get shared equally with you.
To be part of "Invite Friends. Earn Crypto Together" you must join using our special Binance Referral Id (link given above)
Binance Kickback Referral Code is G4DEK5OI
Details terms and conditions are given on Binance.
Binance Referral Event Explained
Binance just completed 3 years in the crypto market and to celebrate this Binance has started a referral event where they are giving away BNB, CHR, PNT tokens worth $250,000. This event is valid until 18-July-2020.
These free tokens will be shared between Binance New users and Binance referees if they fulfill the following conditions
You must be on the latest version on Binance Mobile app.
Once your referral opens the gift, you both will get random rewards up to $100.
Free tokens can only be traded and withdrawable only after 3 BTC trading volume.
If free tokens are not traded within 15 days of receiving then they will be removed from your Binance account automatically.
To receive gifts you have to trade on respective trading pairs.
To claim your free gift go to Account >> My Gifts.
I hope you liked our article about Binance Refer and Earn Promotion. For discussion use the comment box below and do share this article within your network. If you are a social media influencer, have a website, or crypto community then you can sign up at Binance Affiliate Program to get more referral commission than the normal referral rate.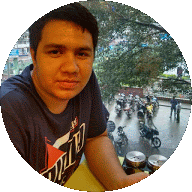 I write about Crypto mining, trading, referral programs. I have been in the cryptocurrency industry for the last 4 years.