Hi everyone Jkcrypto welcomes you to another Bitcoin Hard Fork article.We have already seen Bitcoin hard forks in past like Bitcoin Cash, Bitcoin Gold. This time SegWit2x (B2X ) a new Bitcoin Hard fork is on the brim but why, you will know shortly.
We saw a Bitcoin Hard Fork on 21st July 2017, Bitcoin Cash, which has been openly accepted by investors and community. As of now Bitcoin Cash has a 9.5 Billion marketcap and is ranked at number 3 after Bitcoin and Etherum.
BCH have increased Bitcoin block size from 1 MB to 8 MB.
On October 25 we saw another Bitcoin Hard Fork, Bitcoin Gold – BTG which decentralized bitcoin mining. We are yet to see how community and investors will react when the first block will be mined on BTG Blockchain. See this to know how to mine Bitcoin Gold?
Bitcoin and other cryptocurrencies have been the buzz this year, prices of all cryptocurrencies have skyrocketed. Recently we saw Bitcoin rising and all other altcoins going down. Although Bitcoin is the mother of all cryptos but this sudden growth in Bitcoin price can be related with Bitcoin Hard Forks. Everyone loves free money that's why altcoins are being dumped to have bitcoin at the time of fork so as to get free B2x. You can compare this with Bitcoin Cash new hard fork which will occur on December 28, a month late from when it was supposed to happen. So anyone holding Bitcoin Cash at that time will get free crypto on forked chain. Earlier 1 week ago BCC price was $330 but after announcement of hard fork BCC is currently trading around $575.
So, in this post we will try to explain you the whole story so far about upcoming Bitcoin Kin the SegWit2X. Before we address the issue Let's start with What is SegWit2X by the way?
SegWit2x(B2X): Backstory
Before we understand what is SegWit2X we must know what Segwit stands for and what is its significance.
SegWit stands for Segregated Witness which is a solution to the transaction congestion caused by Bitcoin's rather limited 1MB Block Size.
Earlier in 2009 when Bitcoin was invented by its inventor Satoshi Nakamoto, Bitcoin was almost worthless. First notable transaction was buying 2 Pizzas for 10000 BTC.Bitcoin inventor choose 1 MB as the limit because blocks were 99% empty at the time. He might have thought that there would be plenty of time to upgrade the blocksize in future if needed.
When Segwit2x Bitcoin Hard Fork will Occur? (B2x) :

501451 Block , ~28, December
What is Segwit2x, B2X Price Right Now ? :

$1,103.13
Why Segwit2x ?
Bitcoin was adopted exponentially but Bitcoin founder went missing. So no one knows who he is or is it a group of people. So no one tried to increase the blocksize. At present 1 MB block size is not enough to handle the transactions in Bitcoin Network. New block is found roughly 10 minutes and transaction started to pile up. Transaction got delayed till the emptier block was mined.
So in Bitcoin transaction sender was left with two options. Either to increase the transaction fee or wait for hours for transaction to get completed. If the sender increase the fee then the miner will put his transaction above in the queue and transaction put in block as soon as new block is mined.
Bitcoin was lagging behind the other cryptos as other facilitate faster transaction at a very low transaction fee. Hard Fork is a medicine that bitcoin needed in order to survive in this cryptocurrency rally.
Segwit2x Hash Power :
As per NYA SegWit2x agreement consensus 2017 event Segwit2x had a support of 83.28% total bitcoin hashing power. Since then many miners have stopped signaling Segwit2x hard fork. At the time of writing this article support was down t0 66% from earlier 83.28%.
If majority of miners start signaling for Segwit2x then we will see our legacy Bitcoin with 2 MB Block size.
If some miners show support for Segwit2x then we will see new Bitcoin Hard Fork, B2x.
No significant number of miner show support for Segwit2x then no fork would occur.
Segwit2X , B2x : Main Concerns
Replay Protection : Segwit2x wants to increase blocksize of legacy bitcoin, this is unlikely to happen as many miners have withdrawn support. Currently Segwith2x don't have as good replay protection as bitcoin cash has. B2x has opted in options to avoid replay attack. If you don't opt in for replay protection during transaction then attacker may copy that transaction to other blockchain. Bitcoin Hard Fork must have replay protection enabled.
Hard Forks Coming to Fast : As I told earlier Hard Fork is a Bitter Medicine which is must for Bitcoin in order to compete with other altcoin in long-term. Hard forks are coming too fast which is not good for crypto ecosystem. In just a short span of 3 months of segwit, segwit2x is at our doors. Bitcoin cash has already taken some of the Bitcoin Mining Hashpower, don't know how much B2x will take. We all know Bitcoin transactions are slow so if B2x takes majority of the hashpower then BTC transactions will become more slower.
Community and developers are not in a mood of supporting it. B2x will cause disruption and harm to Bitcoin ecosystem. Hashrate below 80% is a dangerous sign, currently it is 66% down from 84%. Thus it would be better if we dont have another bitcoin hard fork.
Recent Major Updates and Negativity
Bitcoin communities in major regions and bitcoin markets such as Japan, South Korea, and Hong Kong have publicly spoken out against the SegWit2x hard fork. They have strongly rejected the B2x Hard Fork
F2Pool, a leading mining pool operator with 14 percent of the global bitcoin hashrate, stopped signaling for the SegWit2x hard fork from last month.
Hashrate support for the SegWit2x hard fork has declined from 83.28% to around 66%.
Currently B2x is trading around $1100
Hard fork will likely to happen on 28 December 2017, on block 501451. A month late from when it was supposed to happen! The earlier date that is 16 November 2016 was cancelled due to non agreement of included parties but this time it's about to happen.
Before hard fork all altcoins will bleed and after fork alt will be pumped and BTC will bleed.
What You should do?
Don't know what will be the price of B2x after the hard fork. I recommend you to sell half of your B2x after half an hour of trade starting and sell half whenever you want.
Buy cheap altcoins before 5 days of hard fork and sell after hard fork when price gets pumped.
Manage your crypto portfolio wisely, look deeper in to the market and analyse how market reacts after BCC and BTG hard forks.
Note : I am not a crypto analyst or an investment advisor. So invest only that much amount that you can afford to lose.
Hope your liked our article about segwit2x . Comment out your views below and do share this article with your friends and family.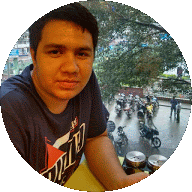 I write about Crypto mining, trading, referral programs. I have been in the cryptocurrency industry for the last 4 years.