In this post you will get to know about MSI Afterburner Overclock Settings for Nvidia GTX cards for different mining algos.If you are searching for overclock settings for cards which you use for gaming then please do a google search. This post is for a dedicated cryptocurrency miner.
If you are mining right now or might plan to mine in the near future with Nvidia GTX series card and would want to get the most out of your card then overclocking is a must. With overclocking your card you can increase your mining hash rate while reducing power wattage required by the card. In simple words overclocking will enable you to mine with most optimized settings available, resulting in an increased revenue.Keep in mind that overclocking can void GPU warranty so always double check with card manufacturer whether they permit overclocking or not.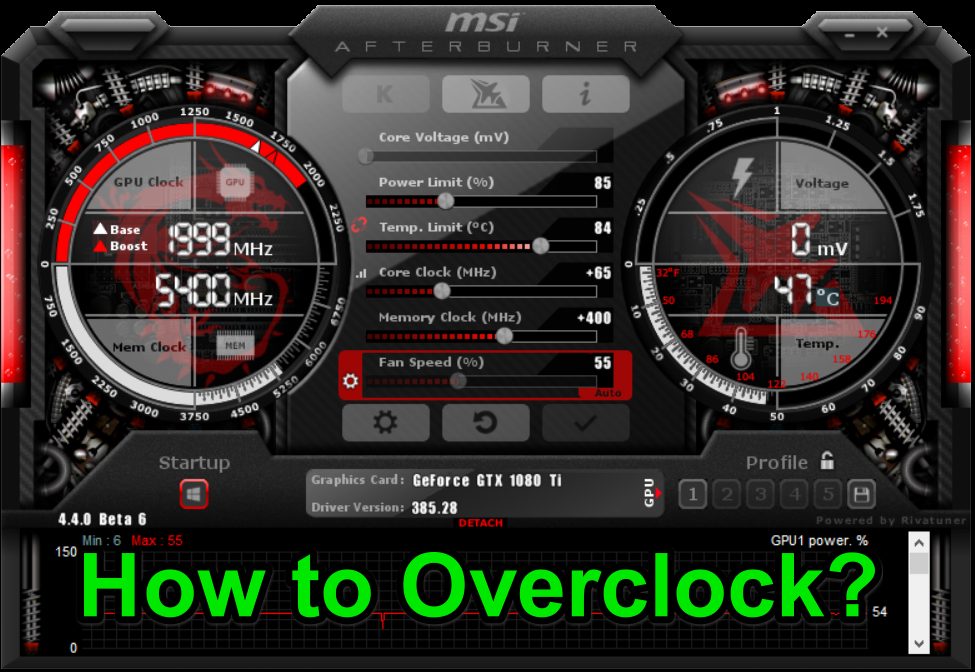 Pros of Overclocking
You will get more mining hash rate, resulting in an increased revenue.
With lowering tdp, power required, you will be saving money on electricity bills.
Custom fan curve, you can set GPU fan speed manually which will make cards run at cooler temperatures.
Cons of Overclocking
Warranty : If you overclock your card then you may void your warranty if your card manufacturer doesn't allow it. So always double check it with your card manufacturer.By the way maximum GPU manufacturers allow overclocking.
System Freeze : If you overclock your card more than its limit than the system will hangup/freeze thus leaving you with a system reset as the only option left. During the process of overclocking your gpu you might have to reset system a couple of times.
How To Overclock Nvidia Cards For Mining
Overclocking will increase GPU performance by increasing core clock and memory while at the same time lowering tdp. TDP stands for thermal design point.No matter what Nvidia cards you own whether it is an Nvidia GTX 1060,1070,1080,Titan X / Xp or GTX 1080 Ti , overclocking process will be same for all of them as all of them belongs to pascal GPU family.
We will be using an MSI Afterburner which is a free software and widely used in overclocking. GPU manufacturers have their own overclock utilities but you won't get desired results with those. If your card manufacturer does not allow manual overclocking of cards, you might be risking warranty, then you may use respected overclock software provided by your card manufacturer.
EVGA: EVGA Precision XOC
Zotac: FireStorm Utilty
MSI: MSI Afterburner
Gigabyte: Xtreme Engine Gaming
ASUS: GPU Tweak II
I have a Gigabyte Aorus Extreme 1080 Ti and a Zotac AMP Extreme 1080 Ti and have overcloked them with an MSI afterburner.
MSI afterburner will work on other brand cards also.
Mining Overclock Settings for Nvidia cards :
I might be making a video tutorial for this so consider subscribing to push notifications (bell icon on bottom left) to get the latest updates from our website JKCrypto.com. For now follow the picture guide mentioned below
Download MSI Afterburner.
Install and open it.
Set tdp between 75% to 120%. If electricity cost is not a problem then you can set 120% otherwise 80-85% will be good.
Initially core clock is set to 0. Start increasing it with an offset of +10 till system is crashed. +50 will work for most cards.
Initially memory clock is set to 0. Start increasing it with an offset of +50 till system freezes up. +100 will work for most cards.
Set custom fan curve, see the image below for reference. Make sure you don't run your GPU's fan at 100% speed all the time, I prefer 80%.
Thats it your card is overclocked and you are mining at optimal settings.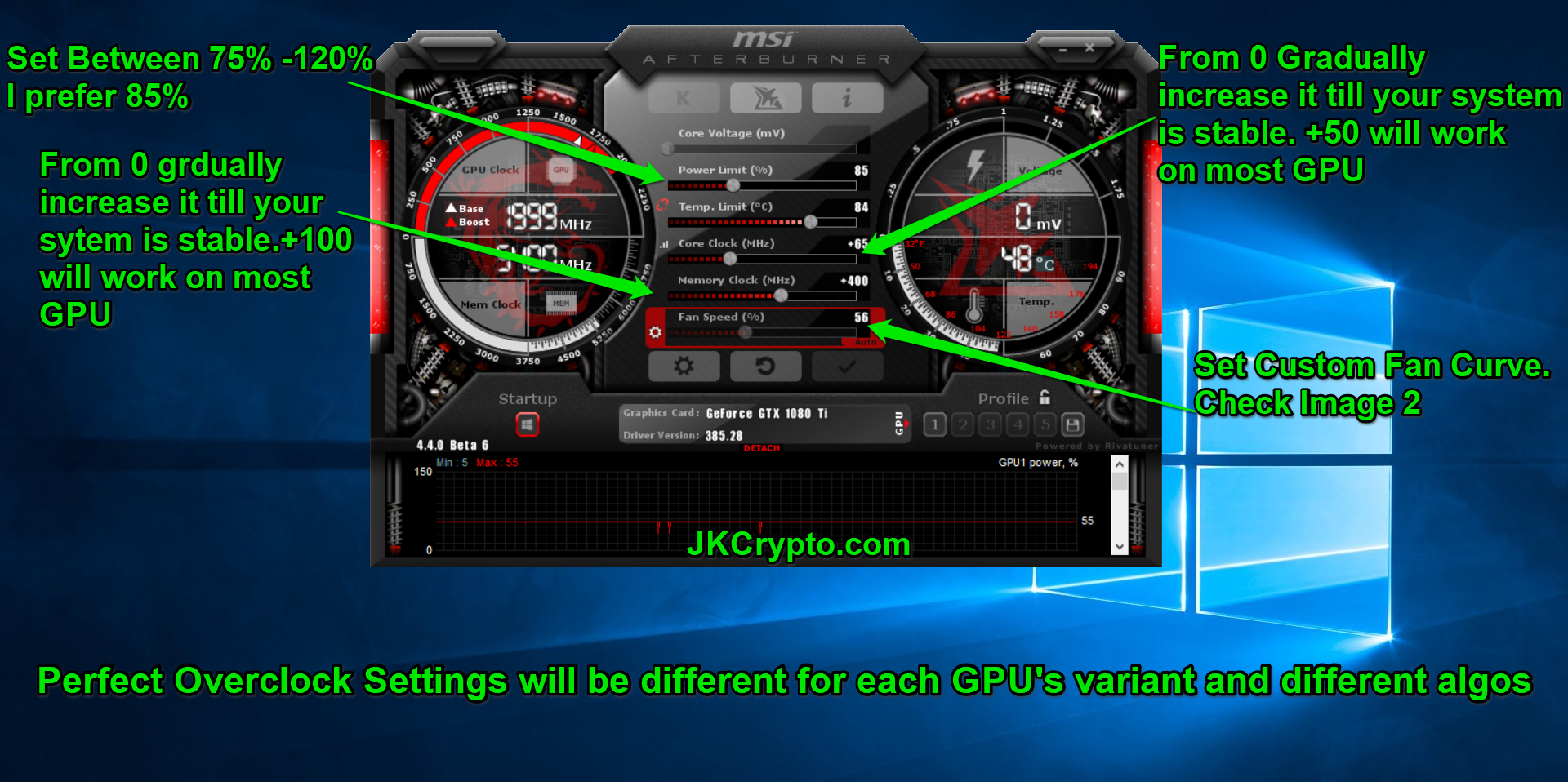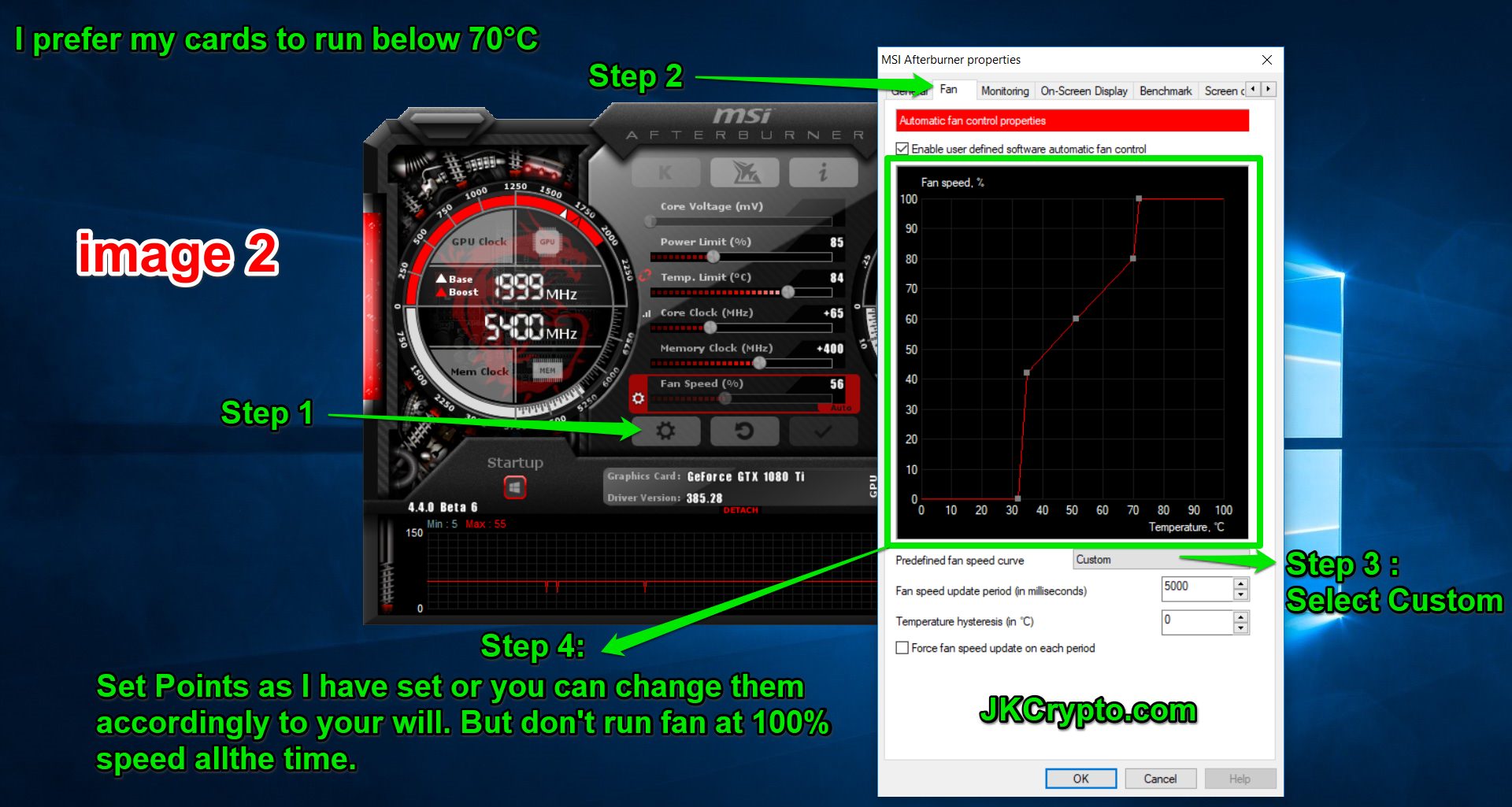 I have a 7 GTX 1080 Ti rig and all my cards run below 70°C. Currently i am mining zcoin whose mining algo is energy efficient and while mining zcoin my card run below 50°C.
https://jkcrypto.com/how-to-use-sniffdogminer-for-gtx-1080-ti/
Mining Overclock Setting for Nvidia GTX 1080 Ti
If you have top variants of GTX 1080 Ti, Gigabyte Aourus Extreme Edition, Zotac Amp Extreme Edition,etc.
tdp : 80% – 120% [ I run my GPU's at 85%]
core clock : +150
memory clock : +500
If you have middle 1080 Ti variant then use these settings
tdp : 80% – 120%
core clock : +75
memory clock : +400
If you have lower 1080 Ti variant, founder edition cards then use these settings
tdp : 80% – 120%
core clock : +50
memory clock : +300
Mining Overclock Setting for Nvidia GTX 1060
I don't have Nvidia GTX 1060, these are the minimum OC mining setting which should work
tdp : 80% – 120%
core clock : +75
memory clock : +300
Mining Overclock Setting for Nvidia GTX 1070
tdp : 80% – 120%
core clock : +75
memory clock : +300
I don't have enough data for this post. If you mining then comment out your stable mining overclock setting for nvidia cards and help other site visitors.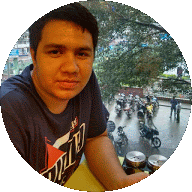 I write about Crypto mining, trading, referral programs. I have been in the cryptocurrency industry for the last 4 years.