Trading – done, Mining – done, Staking – Done, Masternodes – What the heck are they now? In this creative and ever evolving sphere of Blockchain Technology, every now and then more and more concepts arise. Each of them has its own buzz and this time its the Masternodes crypto that have taken our attention. It's nothing fairly new but yes, something that deserves attention and time. We recently came across this concept and are done with our best possible research. So, in this post, we will try our best to explain everything about masternodes and answer the whats and why's around it.
Masternode : The story Behind
Let's begin from the start.
Before
The concept of Masternodes originated from the Dash coin. Dash Coin, when originally started much similar to Bitcoin, did not support anonymous transactions. But with time, they wanted to include anonymous transactions along with a set of other improvements and for that they started what we call the Masternodes.
Masternode started as an anonymous mixer by Dashcoin, which allowed users to run masternode and process anonymous transactions.
After
On top of bitcoin's feature set, Dash can now offer better improved services like instant private transactions and operate a self governing/self funding model. This enables it to pay people who perform work to add value to the network. It was a very successful model and helped achieve decentralized governance and budgeting  system which makes Dash a decentralized autonomous organization(DAO).
Much like Bitcoin and altcoins, same thing happened in this case. After the success of Dash coin and its masternodes  many new and existing coins followed suite. But not all coins support masternodes and the biggest example is the mighty mother Bitcoin itself.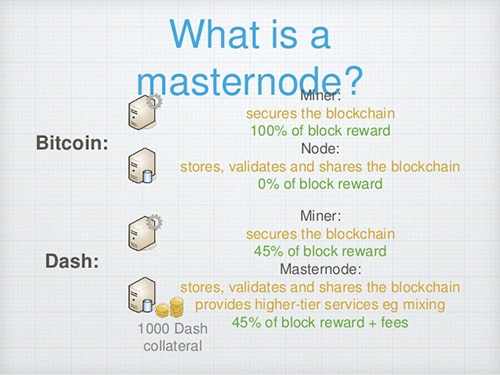 Also Check
Top Exchanges to Trade Cryptocurrency
Nicehash : Advantages and Disadvantages
Masternode Meaning : The Basics in Layman Terms
Coins that used masternodes or Masternode Coins are more favored  by the community and the technology was received very positively. But What is a masternode basically? and How does it work?
Well to keep it simple, Masternodes or Bonded Validator Systems are basically servers of  a decentralized currency.  A masternode can be any computer that runs on a Virtual Private Server(VPS)  and has the wallet of that specific coin with a collateral number of coins that's required to run the masternode. But unlike normal nodes that help the miner in generating new coins, masternodes are utilized for verifying transactions, voting system mechanism etc. So in a way while nodes serve the miner, the masternode serves the blockchain of that particular currency.
Masternode uses resources like VPS, local machine etc. and hence similar to miners they get a reward in the form of that particular coin. Different cryptocurrencies have different incentive models through which an MN operator can earn a decent monthly or weekly income. Usually, the majority of crypto currencies that make use of masternodes, split their block reward per block equally between the mining and masternode distribution mechanisms. Anyone with the required amount of coins can run a masternode but he or she will definitely require some technical expertise because Masternode is definitely not a beginner thing.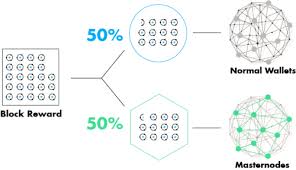 Masternode Characteristics : A Detailed Explanation
Masternodes Prerequisite
Anybody who wants to run a masternode will need to meet these criteria
A minimum number of coins(varies from crypto to crypto) of that crypto is needed to be eligible to run a masternode. For example – You need minimum 1000 ARGO coins to run a masternode. Any number less than that will make you ineligible to host a masternode.
A VPS or server to host the wallet round the clock is needed. You can either go with a Hot Wallet(online) or a cold wallet(On a local machine). But Hot Wallets are relatively not safe. Cold Wallets, on the other hand are relatively safer but the local machine running it should be online 24×7.
A static IP address is a must as masternodes don't really work with Dynamic IP's. In case of Hot Wallets the server will provide you a static IP as they always do. But in case of Cold Wallets you have to make sure that your local machine's IP doesn't change. You can contact your ISP for static IP.
Rewards : Masternode ROI
Masternodes uses your resources like VPS, Local machine etc. which come at a cost. And the work done benefits the particular Blockchain as well as the user. Hence, as a reward masternode owner get the particular coins. This is a passive income as it keeps generating even when you sleep.
Running a masternode is like staking in the sense that you generate passive income through a masternode just by holding your coins, similar to how stakers earn in PoS systems. It is the next level of HODLing as you are generating a passive income minus the running cost by doing so. Consider it just like earning a monthly or weekly interest on your crypto holdings.
Masternode this way becomes a fairly risk mitigated way to either invest in coins or HODL the coins.
There are various websites that calculate the ROI for each coin when running a masternode. The two most famous being.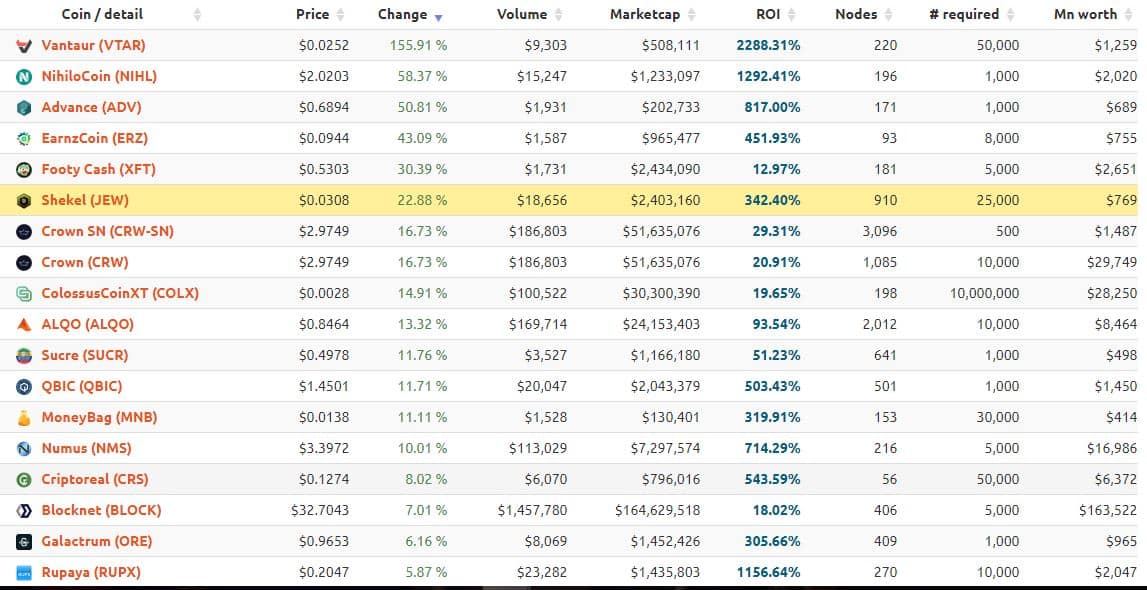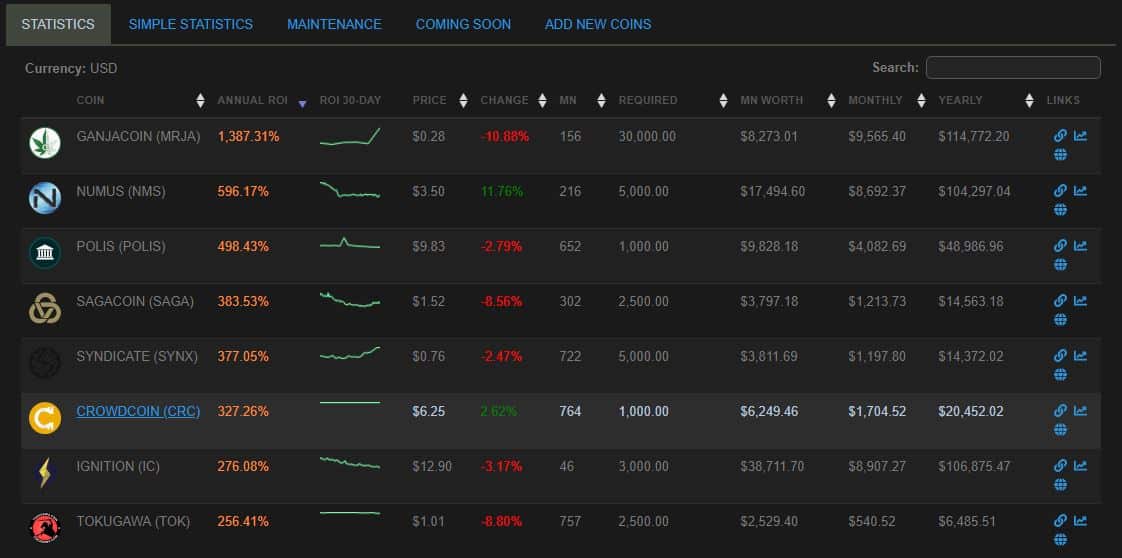 Not PoS or PoW Exclusive
Masternodes are not exclusive to Proof of WorK(PoW) or Proof of Stake(PoS) coins. Usually, PoS coins had an option of Staking which was a very similar concept but nowadays even some PoS coins support masternode functionality. Hence, Masternode doesn't typically mean you are a proof of stake coin.
Decentralization
As masternodes can be run by anyone hence it helps decentralize the cryptocurrency which is the core of the Blockchain technology. Any person who accumulates the threshold amount of coins can run a masternode from the very comforts of his home. This also locks up the supply of the particular coin and hence may result in price uptrend of the coin. Unlike whale HODLers, this does not lock away the coins. They remain in the system to serve the system and decentralize it as much as possible.
Not for All
Masternode is not a beginner crypto topic. Running a masternode requires a technical expertise as you have to get a little bit familiar with linux command line. Also you must be a webmaster so that you are familiar with VPS and Virtual machines. It is not that difficult but having an IT background would surely be of help.
Masternodes Coins
Some examples of coins that are easy to run a masternode for are
CROWN-SN (CRWSN) – 500 Required
TERRACOIN (TRC) – 5000 Required
To sum up, Masternode is an investment and you are putting that investment to work for you to generate a passive income.
Masternode Hosting : How to setup a Masternode?
Basically, there are two ways to host a masternode – either on a Server or on a Local Machine. Similarly, you can use two types of Wallets – Hot(Online) or Cold(Offline). Remember it's not something that you can do out of the blue. You need to be familiar with a little bit of the Linux command line and webmaster work that is building and running websites. It's not particularly difficult but an IT background will surely help. Tech savvy enthusiasts can host it out of their homes easily and earn off of it.
Cloud Server(VPS)
There are many cloud options available that provide good ubuntu servers where you can host a masternode. Two of the most prominent ones are
You can rent these Virtual Private servers (VPS) solutions after calculating the cost of VPS in allotted projection of ROI. Servers are online 24 by 7 without having to keep your local machines awake. They are made for this very purpose of being online every time and hence are a good bet.
Local Machine Hosting
By this way you can host a masternode out of your home on your very own machine. The only thing that you have to make sure is that your IP should be static. just contact your ISP and request for a static IP as its not much expensive than dynamic IP. You have to keep your machine awake 24 by 7 to make this feasible but yes, this a more safer way to host a masternode.
Masternodes : Invest or not?
Up to this point, while everything may seem sunshine and rainbows but as it is with mining, there are some things that you need to watch out for before becoming a masternode owner. Careless investors can attract a black cloud for them and lose their hard earned money. So, before investing in a masternode here are some things that you need to be careful about. The safety tips are similar to mining but are necessary as you will be HODLing the coins.
Similar to Mining and Trading, before investing in a masternode do a full research about the coin on BitcoinTalk Forum. Check out if the coin has enough discussion pages on forum so that you can know it is not dead and also know about how positively is the community taking the coin. Also check out the social pages of these coins which you can find out on the forum so that you know, how active the developers are.
You are HODLing a significant number of coins by running a masternode and hence, you must make sure that you have confidence on the project. If the project has a feasible use case or it serves a purpose only then you should trust them and invest in it. With the ease of making cryptocoins, every tom dick and harry is releasing coins with almost zero use case or purpose. So you should stay away from such scam coins. Such scams often run away with the money.
The coin project you choose should have a value. Masternode is a long term investment and has an equally long ROI and hence scam coins don't usually stay long enough to complete the ROI.
Always look behind the scenes of the coins before going for masternode. Research the team behind the project and their previous works so that you can make sure it is not a dead project.
The volume of the coin circulating should be decent enough. You maybe running a masternode but practically you are HODLing and earning the particular coin. So, if in case the volumes are not good then it will be difficult for you to sell the profited coins as there will be less buyers. Neither will you be able to sell the masternode even if the coin prices shoot up as there will be less buyers.
Finally, always follow the golden rule : Risk what you can afford to loose. Masternodes may seem promising but the volatility of the crypto market can go either way in no time. So be wary of this factor before investing.
Masternode Shares at JKCmn[Join Us]
As you all know currently we are also trying our best to run masternodes. At present we have two ABS masternode running and others are half way into progress. The whole JKC community has stepped in to make a collateral effort into running masternodes and sharing the profit.  We are normal miners like you and hence a joint effort is needed to achieve the masternode threshold. We are really thankful to all the community people who have joined us in this venture.
There is no minimum limit for sending the coins. Of the total profit that we collectively earn we will take up to 5% fee for server cost and service.
It's completely up to you if you want to take part or not. Even after you send the coins to us, if for some reason you would want a refund than you can ask for it anytime during the whole process and we will give an instant refund as soon as possible. Also, we do not recommend buying these risky altcoins just for the sake of investing them in a masternode.
Currently we have plans to run the following coins MN.
ABS,CRS,CURV,ARGO and SPD
Please Note :
This email is strictly for masternode participants only
.
Disclaimer:
The materials on JKCrypto.com are for informational purposes only. JKCrpyto is not responsible for any gains or losses that result from the opinions expressed on this website. The information presented in this blog is an opinion, and is not purported to be fact. We are not a licensed crypto financial adviser. Cryptos are a volatile instrument and can move quickly in any direction. We strongly encourage all investors to conduct their own research before making any investment decision. You are personally responsible for all due diligence.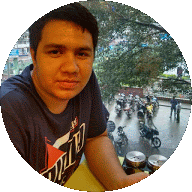 I write about Crypto mining, trading, referral programs. I have been in the cryptocurrency industry for the last 4 years.