I hope you have a great crypto journey, with BTC reaching an all-time high. Most of you might have earned huge profits thanks to BTC, and those who were not so lucky should now need to focus on the altcoins. It would be best if you looked for promising altcoins on exchanges having good volume. This post is all about HBTC crypto exchange and HBTC Invitation code. HBTC was one of the first exchange to list Efforce (WOZX), a promising altcoin by Steve Wozniak.
HBTC offers a 2 tier referral program to its users. You earn a 30% referral bonus from your direct referrals and a 5% referral commission from the referred users that your referrals invite. Thus you earn a 35% referral reward from HBTC, and all you have to do is share your HBTC referral link within your crypto community.
You are also provided with a unique kind of affiliate program known as HBTC Captain. If you have a large crypto fan base, I would highly recommend you to become an HBTC Captain and earn significantly more than the other exchanges.
HBTC Invitation Code

: vJbuJ7

Note: Do remember to stock up some HBC tokens to your account to receive the HBTC fee discount. We will discuss it later in the fee section.
| | |
| --- | --- |
| Referral Code | vJbuJ7 |
| Referral Link | Click Here |
| Referral Bonus (Tier 1) | 30% |
| Referral Bonus (Tier 2) | 5% |
| Affiliate program | Yes, available (HBTC Captain) |
Do check out some other interesting Crypto Exchanges Referral Schemes such as:
Start trading on Huobi with our Huobi Invitation Code
Discount on Trading fees on Binance by joining via referral program.
How to Register on HBTC?
Visit this link for signing up on HBTC.
Register yourself either via your phone number or by your email.
Fill in the details as required in the registration box.
Set up a strong password for your account.
Click on send code. Enter the code received on your phone number or your email.
Please show some support to us by entering our HBTC referral code vJbuJ7 in the row below.
Click on sign up, and you have successfully registered yourself on HBTC.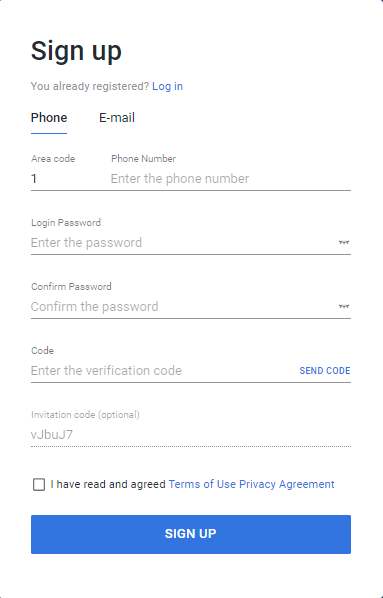 HBTC Referral Program Explained
In my opinion, signing up on any crypto exchange via their respective referral scheme is a must. Not only you receive perks and bonuses you also earn a hefty amount of cryptocurrency in your account at no extra cost. All you have to do is share your Invitation code in your social circle and let the exchange handle the rest.


HBTC also welcomes its new users via an exciting referral scheme. HBTC provides a 30% referral rebate to its users if they are able to register new sign-ups on HBTC via their referral link. They also have an affiliate program known as HBTC captain, which allows you to gain more from the exchange via increased referral bonuses and airdrops.
HBTC Referral Rewards
The exchange enhances its referral program experience by providing its users with a 2 tier referral scheme. Let us try to understand the referral process and the rewards step by step.
Referral reward (Tier 1)
Suppose you refer a person A via your HBTC referral link. He registers with your referral code and starts trading on the exchange. 30% of the person's total trading fees will be your referral bonus from the Tier 1 referral scheme.
Referral Reward (Tier 2)
If the user A you referred above also shares his personal link with some other person B, then A will receive a referral commission of 30% from B. But you too will be entitled to earn a 5% commission from B. Thus without referring B, you will reap benefits from the referrals from your referred user A.
Where to get HBTC Invitation Code?
Log in to your HBTC account.
Click on the user icon on the top right corner of the exchange.
Go to "My invite".
You can now view your Invitation Code and Invitation link.
Copy and start sharing on various social media platforms.


Referral Program: Terms & Conditions
The referral reward will be provided in the same currency as traded by the referral.
A referral bonus will be provided at the end of the next working day.
The referral scheme applies only for spot trading ( Be an affiliate or HBTC Captain to obtain referral bonus from contract trading).
HBTC Affiliate Program
If you have a substantial social following, I would advise you to be a part of the HBTC affiliate scheme. HBTC provides you with HBTC captain as an affiliate program to start earning a decent amount of money.

HBTC affiliate program has been named as HBTC Captains. There are three types of HBTC captains, and each has its unique requirements and bonuses associated with them.
Founder Captain
Be the first 1000 to hold 1000 HBC tokens, and you will become a founder captain. An extra 5% airdrop reward is provided to the Founder Captain.
Partner Captain
The next 1001 to 10000 to hold 1000 HBC tokens will be termed as Partner Captains.
Candidate Captain
The next 10001 to 20000 to hold 1000 HBC tokens will be called as Candidate Captains.
HBTC Affiliate Rewards
Affiliates receive Invitational bonuses from both spot and contract trading.
As soon as you become an affiliate, the referral bonus increases from 30% to 40%.
There is no expiry date on affiliates invitation bonus.
Additionally, affiliates get HBC mining reward.
Extra airdrop rewards to the captains is also ensured.
Finally, affiliates get a trading fee discount. Higher the VIP level, lesser the fee you pay.
HBTC Fees
HBTC charges different fees for market makers and takers. However, if you hold a specific amount of HBC tokens and maintain the required 30-day trading volume, you will become a VIP member. A VIP member pays significantly less than an ordinary trader. The below pic describes the fee criteria for trading on HBTC.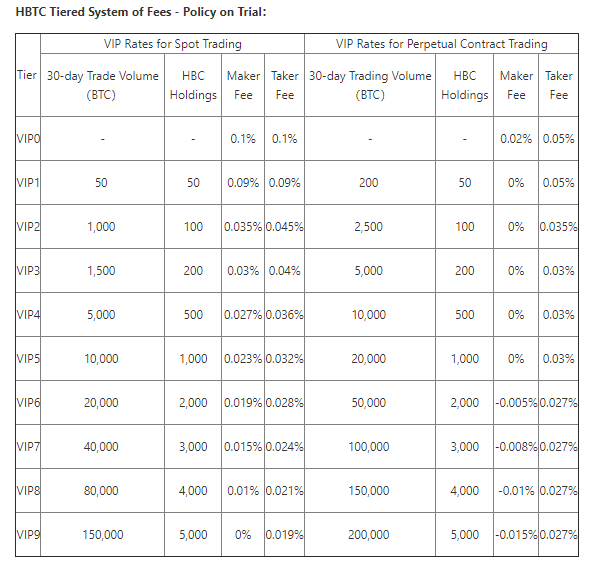 HBTC Bitmore
The exchange allows you to earn from your idle sitting cryptocurrency. Just stake your cryptocurrency and earn a high-interest rate from HBTC. There are a lot of options to choose from. You can select from Fixed or Flexible term products.

Conclusion
I happened to stumble on HBTC recently with the launch of Wozx. The exchange has a great variety of altcoins to trade. Earlier the exchange was known as BHEX and has now renamed itself HBTC. The user interface is clean, and I did not notice any anomalies in the interface when the cryptos really pumped or dumped hard.
The withdrawals are fast and also provides you with an option to accelerate your withdrawals unlike other crypto exchanges such which do not provide this feature. The KYC process is swift and fast. Bookmark JKCrypto.com for cryptocurrency-related updates.
HBTC FAQ
What is HBTC invitation code?
vJbuJ7
How much referral commission do I get on HBTC?
You receive a 30% commission from your direct referral and an extra 5% referral reward from your indirect referral. Thus a total of 35% referral commission.
Does HBTC have an affiliate program?
Yes, it is called as HBTC captain.
How much do Affiliates earn from inviting people to join HBTC?
40% Invitational bonus and many other perks mentioned above.
How to pay less fee on HBTC?
Hold HBC tokens to pay less and increase your 30 day trading volume.