In this post, we give you a brief description of the recently launched Binance Pool Referral Program. If you like what you read and want to join the platform, then we encourage you to use our Binance Pool Referral Code while signing up. This will give us some incentive and inspire us to bring more awesome content to you.
Alternatively, you can also use the Binance Pool Referral Link to join the platform which has the code embedded in it and you won't have to manually enter it on the registration page. Our incentive is a 50% Commission from mining fees for which we are more than grateful. You can also do the same once you are signed up, by sharing your referral link with friends & others. We have made the best possible step by step guide for you to understand the Binance Pool Referral Program and its benefits. Hope you like it!
Binance Pool Referral Code: ZC0B05ZB

| | |
| --- | --- |
| Referral Link | Click Here |
| Referral Code | ZC0B05ZB |
| Referral Commission | 50% |
To read about Binance Spot and Futures Click on the links below
Know Binance Pool Referral Program Details
If you refer new users to the Binance Pool Platform, you can enjoy a 50% commission on mining fees paid by your referrals to Binance. This is a very good offer and encouraging enough for invitees to share their referral codes as much as possible.
But before you get started on Binance Pool, you need to be a Binance Customer. So, if you have still not joined Binance then you can Click on this link to do so.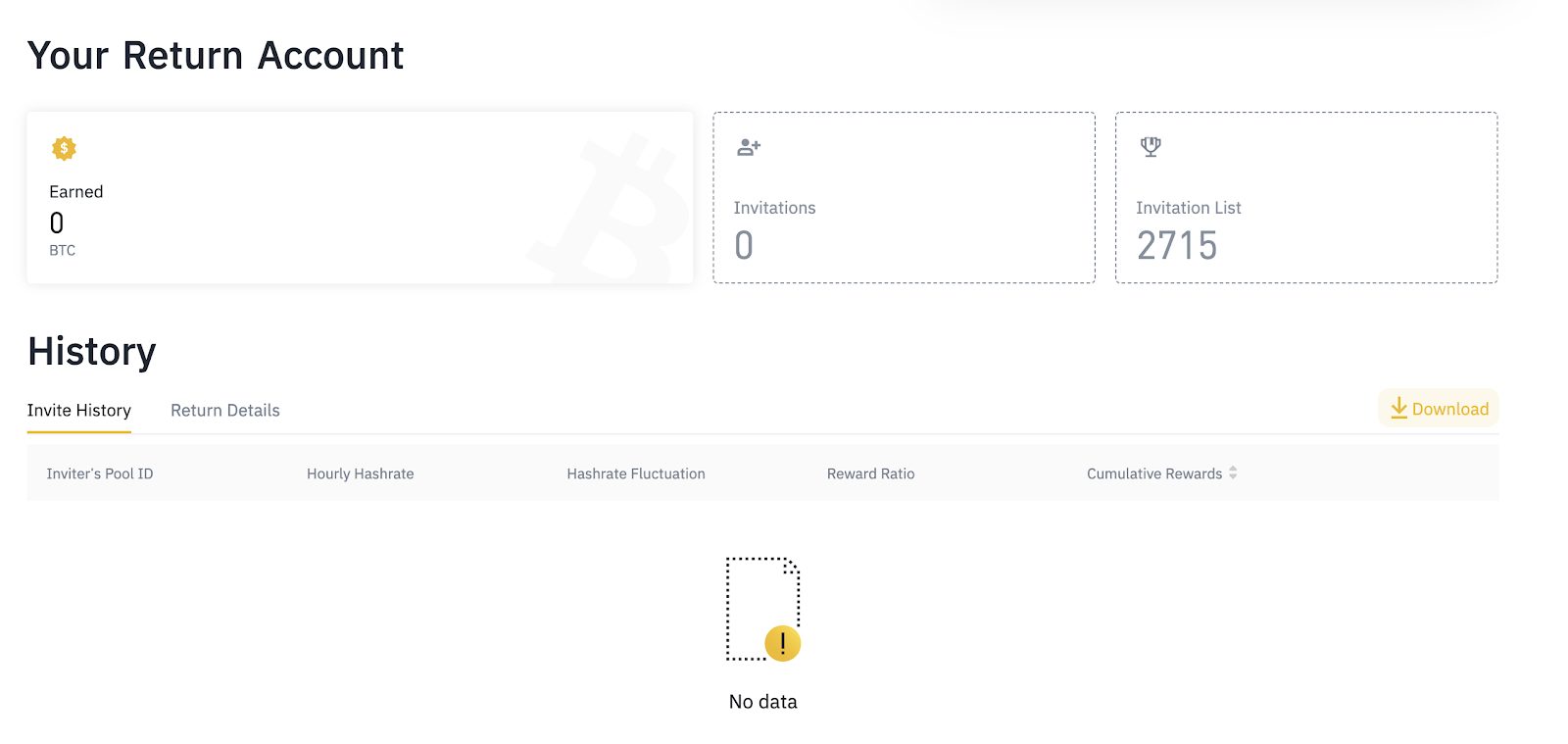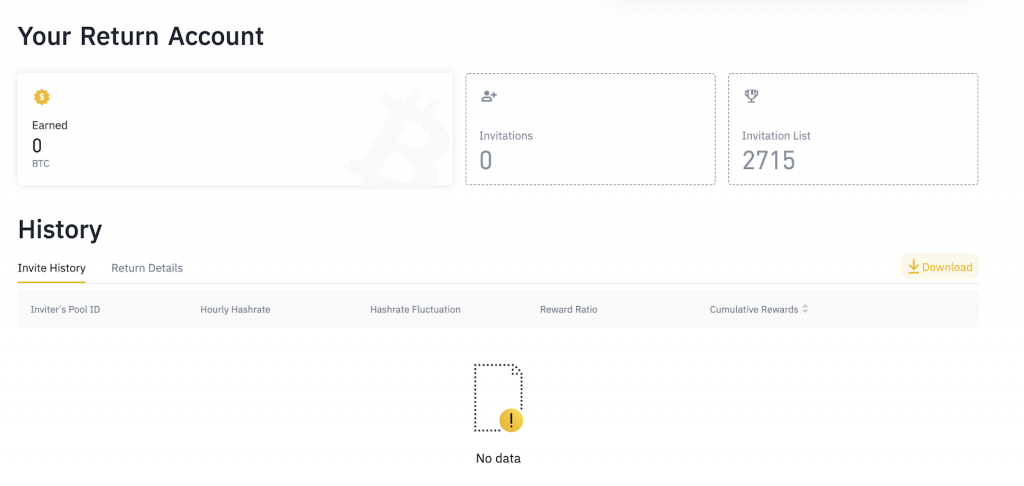 Key Points of the Binance Pool Referral Program
Initially, The first movers did get one-month of zero-fee mining till May 31 after which the fee has been set to 2.50%.
But now, only the large miners can negotiate an extension of the free fee period by contacting Binance directly.
If you are none of the above two, then under the referral program, if you refer your friends to the Binance Pool using your Referral Link or Code, you will get a 50% commission on the Mining fees paid by the referred miner.
The best thing about the Binance Pool Referral Program is the fact that similar to other referral programs on Binance, this one is also a conjoined affair which means you will enjoy the benefits of all the three referral programs once a person uses your referral link/code to join. If he/she mines you will get the 50% commission from mining fees, if they trade spot or futures, you will get the referral commission set by you in the respective programs.
The collective additional referral benefits only apply to the referrals that you gain after the launch of this referral program i.e. post 2020/09/18 and they should have signed up using the Binance Pool Referral Code or Link. So, any new referrals from here on will provide you benefit from all the three programs, and if your referred person mines on the pool then 50% from his mining fees will be yours.
Similar to other referral programs, You can view your referral earnings and other related stats on the Binance Pool Referral dashboard which you can access by following the steps given below.
Terms and Conditions
The 50% commission that you earn will be from the mining fees paid by the referrals. Hence, the more the hash rate, the more mining rewards and finally, the more you earn.
Signing up via the Binance Pool Referral Link or Code will make the inviter eligible for referral rewards from Binance Referral Program and Binance Futures Referral Program as well and vice-versa.
As usual, the earning from the spot and futures referral program will depend on your daily BNB holdings too and the rebate rate for invited referrals will like before depend on the rate you set in the respective referral dashboards.
No changes have been made to the terms and conditions of the spot and futures referral program.
For each of the referral programs, there are separate dashboards to view the earning and progress.
This referral program also has no limit on the number of people you can refer to and the amount you can make. You keep earning until the hash rate of the referral is operational in the pool.
The payouts are as usual are done daily into your pool wallet.
Unlike the other programs, this one does not give you the option to adjust the referral commission percentage. The right to change is reserved for Binance.
You will get the rewards in the same currency that the referral uses to pay for the mining fee i.e. BTC, BCH, or BSV.
What is Binance Pool account?
As we all know, Binance is pretty much everywhere. Any service, you name it, that can be given regarding the crypto-coin industry, Binance is doing it from trading to futures to finance – everything. Similar to its competitors like Huobi, now you can mine crypto on Binance too, and to get started, you have to create a Binance Pool Account.
The procedure is really simple. Just follow the below-given steps:
How to create a Binance Mining Pool Account?


The first step is to Login to your Binance Account. In case, you are still not a Binance Customer then sign up for it using this Binance Pool Referral Link and register.
Once you are logged in, click on the "Finance" Tab. A drop-down menu appears.
From the drop-down menu choose the "Binance Pool" option. The Mining Pool dashboard appears
Now, it's time to Create a Mining Account, which you can do in two ways:
a) Click on the "Please configure the Mining Account" option on the right side of the Mining Dashboard
OR
b) Click on the encircled numbered button (Mining ID) on the top right corner of the main Binance Menu Bar. A drop-down menu appears where you can choose the "Mining Account option". The Account Management page follows up where you can click on the "Create Mining Account" option on the right-hand side.
A dialog box appears where you can get started with creating your mining Account. Just follow the instructions carefully and your mining account will be created in just a few clicks.
Note: If you find the above steps too lengthy or are not interested in reading it thoroughly, then Just follow the italicized words in quotes to grasp the above-given instructions faster.
Where to find Binance Pool Referral Code or Link?
Using the above steps 1-3, once you reach the Binance Pool page, click on your Mining ID >> Referral Link from the drop-down menu.
Mining ID is the encircled number on the top right corner beside the Orders tab. Something similar to the picture below appears with your distinct referral code/link: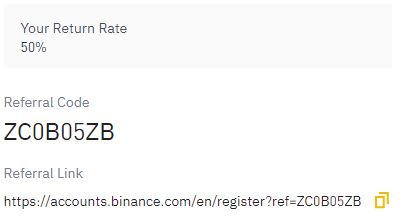 Now you can copy and share your Referral Link or Code via email, direct messages, blog, vlog, etc. and enjoy 50% discounted fees.
Binance Pool Explained
Destined to be the Market Leader, Binance has added a new feature to its Finance suite, the Binance Pool. Currently, the mining pool supports only three coins – BTC, BCH, and BSV. For other popular coins, you can stake them and get yearly returns. At the time of writing, the mining pool has a total of 151619 Active Workers and 8.5 EH/s of Hashrate which makes it a major player in the mining industry. This kills the need for additional wallets as the earnings from mining is directly deposited into your Binance Mining Pool Wallet by default after settlement which then further can be transferred into your other Binance Wallets for Trading, Finance, etc.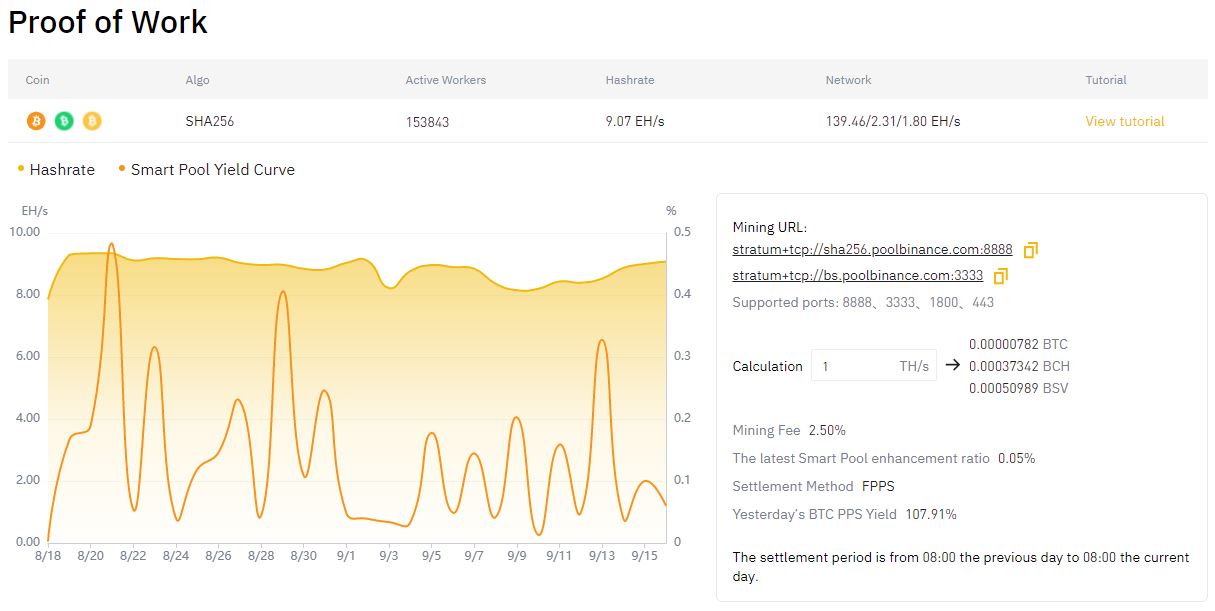 Key Features of the Binance Mining Pool
Fees and Services: Binance has been a pioneer in favoring lower fees and comprehensive services, that increase the miners' chance of earning more. This is the very reason why Binance gained so much popularity in the first place.
Decentralization: Some experts suggest that the entry of Binance into mining will reinforce a More decentralized mining yield though this is not without its criticisms.
Binance Trust: Being a leader in the crypto industry we can be carefree while starting with Binance Mining Pool as we will automatically be entitled to top-notch operating expertise.
POW & POS: The support for both Proof of Work and Proof of Stake mechanisms is also a very positive feature that makes the platform more favorable.
FPPS (PPS+): Instead of PPS, Binance Mining Pool uses the FPPS method to distribute mining rewards which are 5% better than what you get with PPS. So, in a way you get better Binance pool rewards.
Smart Pool Feature: We saved the Best for last! This feature lets miners automatically switch hashrates to mine the most profitable out of the three supported coins based on the SHA256 algorithm. Real-time hedging makes sure that revenues generated by the smart pool service are never lower than the standard option called FPPS. In exceptional cases, if this happens Binance has promised to pay back the difference to the users.
Criticisms
With its entry into the mining pool space, Binance has been criticized for further aiding the centralization of Bitcoin mining as the majority ASIC hashrate is already from China and Binance having everything to do with crypto has worried some experts over Binance acquiring too much power over the supposedly decentralized crypto market.
China's Bitmain Technologies Ltd. already is responsible for the majority mining hashrate and the construction of the World's largest mining field. Winestone Mining Farm in the USA has already made it sure that solo mining is dead. You have to rely on Binance Pool and others to do profitable mining.
The crypto exchanges have already begin to look like the Banks of the near future.
FAQ
Is Binance com legit?
Hell Yeah! It is a leading crypto firm and a pioneer in crypto services related to trading, futures, finance, and mining.
What is Binance pool? What is Binance mining pool?
Binance Pool or Binance Mining Pool is a new addition to the Finance suite of services provided by the crypto giant where you can connect your miners and mine any of the three supported coins – BTC, BCH, and BSV. The rewards are calculated by the FPPS method and you can further improve your earning using the Binance Smart Pool feature.
Can you mine Binance coin?
No.
Does Binance have a wallet? How do I open a Binance wallet?
Yes, Binance has a separate wallet for each of its services be it futures, pool, spot, margin, or savings. Your mining rewards will be by default stored into the pool wallet which you can further shuffle into other Binance wallets without any transaction fees.
Where is the Binance Exchange located?
Initially started in China, Binance is as of today headquartered in Malta. Following the ban in China and restrictions in Japan, Binance relocated to Malta.
Can Binance withdraw to bank account? How do I get my money from my Binance account?
Yes, but in limited countries.
What is pool account in Binance?
To mine on Binance, you have to create a Mining Pool Account. This is similar to creating a Binance Futures Account to trade on Binance Futures. For every service on the exchange, you get a separate wallet and have to create a respective account. You can follow the above-mentioned steps to create a pool account in Binance.
Is it safe to keep coins on Binance?
The safest method is definitely to store on Cold Wallets but you can keep a significant amount on Binance Wallets too so that you can avail of the services. Keep only the amount that is to be used on Binance Wallets. And Yes, you can trust in Binance expertise regarding the safety of your portfolio.
How do I add money to my Binance wallet?
You can transfer funds from mining account to spot account.
Conclusion
So, buckle up your equipment – your ASIC's, Power Source, Network Cables, and a PC to manage your miner. Connect with Binance Pool to maximize your passive earnings. If you are a new user then do not forget to sign up using our Binance Mining Referral Code or Link.
Also, if you are a large miner then do negotiate with Binance for an extension of the free fee period.
If you have any more doubts and questions, feel free to ask them in the comment section below! Happy Mining!