Hi everyone, we are back with another affiliate program. You can earn a lot of money ( Bitmax token, BTMX ) by referring your friends to AscendEX. AscendEX is doing good lately as it has listed so many new ICOs on its platform and offers leverage trading, transaction mining, and reverse mining. Keep reading to know more about AscendEX Referral Program.
If you have never used AscendEX earlier, AscendEX New Users can join using my AscendEX Referral Code.
This post is not regarding the AscendEX exchange review; instead, you will get to know about AscendEX Referral Program and earn passive income from AscendEX. If you are part of the active trading community, you can refer them to AscendEX, and for each of their trade, you will earn a percentage of commission paid by them to the exchange.
Don't get confused with Bitmex leverage trading exchange; that's a different trading platform. You can try that one also and get a 10% discount on trading fees for the first first six months (note: leverage trading is not everyone's cup of tea )
You will receive 10% of the trading fees, which is given by your referral.
Note: BitMax has been officially rebranded to AscendEX and the domain name has been changed from BitMax.io to Ascendex.com.

If you are new to cryptocurrency then consider checking the following articles.


Ascendex Referral Program: 10% of Trading Fees for each Referral
How to Register on AscendEX ?
Click here to go to AscendEX.
Fill in the required details.
During signup, use our AscendEX invite code :
JMD9HMW0
Verify your email address provided.
Enter your desired password to complete registration.
That's it. Now fund your AscendEX account to start trading.
If you have never done trading before, then you can take help from YouTube.
Getting your AscendEX Referral Code
Also known as AscendEX Affiliate Program, You can earn passive income with the AscendEX referral program; all you need to do is refer anyone to the AscendEX platform. For every trade made by your referral, you will get part of the trading fees as a commission. There is no limit on the number of users you can refer; refer more to earn more.
Follow the following steps to get your AscendEX invite code:-
Login to your AscendEX account.
As shown in the picture below, go to the referral section.
Copy your referral code and share it with your friends/family.




AscendEX Referral Rules
Referral Commission is set at 10% but can be changed in the future.
There is no limit to the number of users you can refer to AscendEX
A successful referral will be counted only if he/she has used your referral id/referral code/affiliate id during sign-up.
Duplicate referrals will not be counted.
Referral rewards will be given daily.
If you try to abuse the referral system, then your account might get suspended.
AscendEX can change the following terms and conditions at any point in time.
The referral program can end at any time without prior notice.
The Rebranding

:

BitMax to AscendEX

AscendEX Bitmax, whatever you may call it, is officially the same exchange but with a different Brand name.
Your account information and AscendEX login credentials remain the same. You can easily log in to the new AscendEX platform with your old BitMax.io account info.
Only the domain name and branding have changed. Else everything is the same as before. Even if you enter the older BitMax.io URL, you are redirected to the new AscendEX.com domain.
Additionally, AscendEX has launched four promotional events with over 60,000 USDT worth of rewards to celebrate this rebranding occasion.
If you are new to AscendEX, Join with our AscendEX Referral Code (given above). Use social media icons to share this article so that your community can learn about AscendEX Refer and Earn program.
For more Ascendex News, you can read the blog on their website.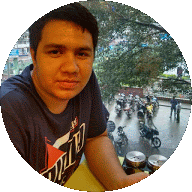 I write about Crypto mining, trading, referral programs. I have been in the cryptocurrency industry for the last 4 years.